Surface and Thin Film Analysis Facility
Location: Room 108, LRSM
Supervisor/Coordinator: Douglas Yates
Contact: Douglas Yates
Phone: 215-898-2013
Email: dmyates@seas.upenn.edu
Oversight Committee Chair: Christopher B. Murray, MSE
Nanoscale Characterization facility in the Singh Center for Nanotechnology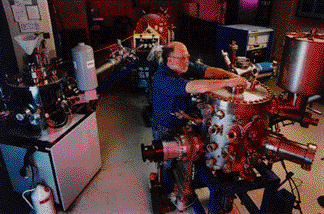 The heart of this facility is an NEC 5SDH 1.7MV Pelletron Accelerator
At the heart of this laboratory is the Pelletron Accelerator, which is capable of producing ion beams ranging from 0.2-5.1 MeV. The laboratory specializes in data collection for General Purpose Station for Rutherford Backscattering and Forward Recoil Spectrometry. A computer-controlled goniometer aids in the collection of channel maps for crystal structure orientation studies and ion implantation applications.
In addition, the F3-UV spectral reflectometer (room 225 LRSM) can measure thin film properties by determing the thickness and refractive index rapidly.  Thicknesses range from 3nm to 40 microns.  The sample holder(Filmetrics F3-UV) system with in-situ vapor annealing is available for organic films ranging from 3nm to 5000nm using incident radiation from 200 to 1100nm.  This versatile platform allows for in situ vapor annealing studies.  For schedule and training, contact Nadia Krook

 

nkrook@seas.upenn.edu.
Surface analysis tools also maintained at the Nanoscale Characterization facility in the Singh Center for Nanotechnology include VEECO (formerly Digital Instruments) Dimension 3000 and Multimode Atomic Force Microscopes.
Instruments
DI Dimension 3000

The DI Dimension 3000, is a versatile instrument adaptable to a wide variety of sample sizes and shapes.

Digital Instruments Multiprobe

The Digital Instruments Multiprobe, is the highest resolution, commercially available SPM. It is designed for atomic scale-resolution imaging.

NEC 5SDH 1.7MV Pelletron Accelerator

NEC 5SDH 1.7MV Pelletron Accelerator is capable of producing ion beams ranging from 0.2-5.1 MeV.